Day #20 - Mykonos
I love this island already.
The day started with a healthy breakfast of home made gelato, pistachio and fig.
The gelato lady makes the gelato herself every day...nice lady, very generous with her potions.
Back on the ferry we went...tons of people again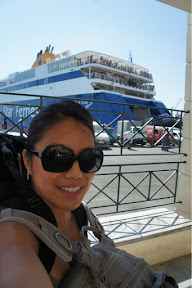 You cant see in this pic, but it seems as though my backpack gets bigger and bigger, even without me buying stuff!
We were lucky to havr perfectly clear blue skies. Aparently just one day before, mykonos was blanketed in black clouds and rain was jsut pourrrrring. The water was inviting too...
There were a lot of small boats in the marina as well. Speaking of whichk while there, we saw a massssive yacht with just three or four people, enjoying themselves.
Aparently, the island mascot of mykonos is a pelacan...this bird was soooo random. Just walking around town like he owned th place. Lol.
The other key symbol of Mykonos are the five windmills by the edge of the island.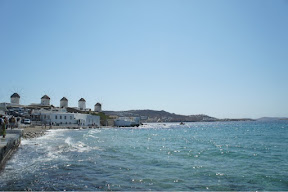 Look at that crystal blue waterrrrrr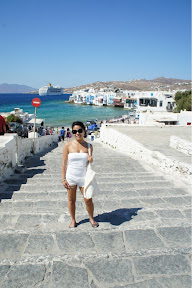 We headed to the restaurant by the water and our little friend showed up again
If i didnt get seasick all the time, one of the goals in my life might be to get a yacht lol.
There were quite a few cruise ships tethered nearby. At night you can hear the music and partying going on, on the boat.
My rommate priya had a genius idea of checking out the sunset by the windmills.
First pic, sunset in sunset mode
Second pic, sunset in hdr.
Out of all of the sunets i have ever seen, this was THE most beautiful. The sun was so round, large and clear. It was absolutely beautiful. And, this next pic is my new favourite photo of the trip (in case formatting of my blog messes up, it the one of me jumping)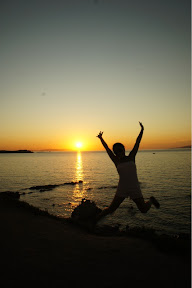 I love the look of the sky after the sun has set..all those pretty coloure...
And finally, i started off the day with gelato... i will end the day with gelato....
Gelato for dinner? Just lived out a childhood dream :)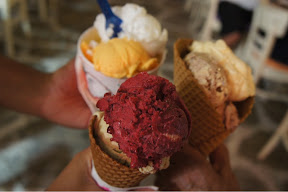 Location:Mykonos, Greece